Level Up Your Career with Career Forward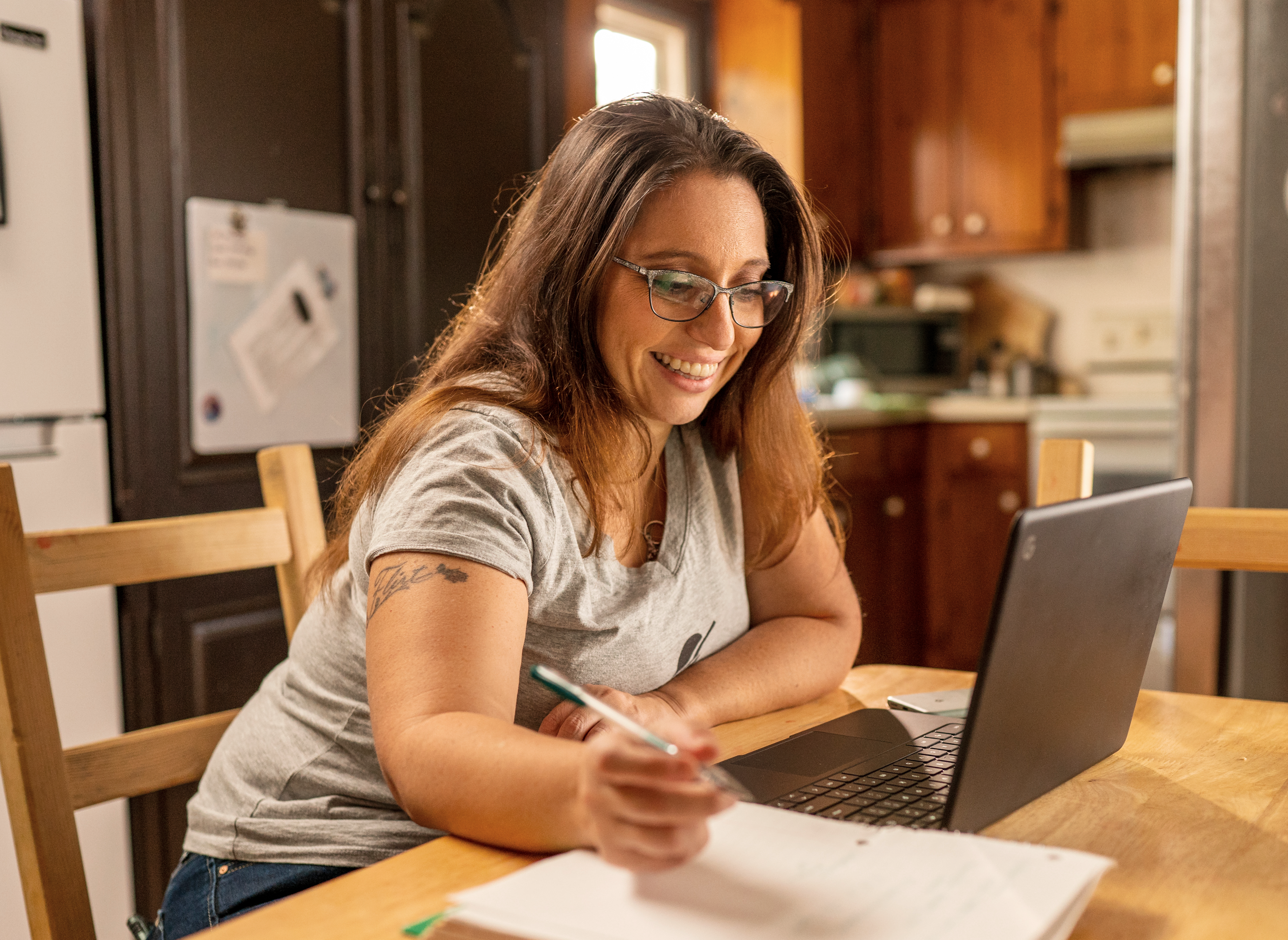 In less than four months, Marine Corps veteran Amie Hanbury completed the training she needed to launch a new career in IT.
As a lead field technician at a national telecommunications company, Amie provides IT support for the company's clients ensuring that they are able to work securely from home. Too often, Amie's clients have outdated equipment or software that makes completing their daily tasks frustrating. After Amie's IT assistance, they can effectively do their job and serve their clients.
"They are super excited to have a computer that works," Amie said with a smile.
Behind that smile is the confidence of knowing that through her work she has helped someone and will continue to help others. Her professional satisfaction is a new feeling, one she hasn't felt since her time in the Marines or when she worked as a dispatcher at her local police department.
"For me, my work needs to fulfill a bigger purpose," Amie told Hiring Our Heroes. "I want to feel like what I'm doing is benefiting the world around me."
Career Forward, Free Self-Paced Training and Support
With the support of a Google.org grant, Hiring Our Heroes recently launched a new learner-to-earner program — Career Forward — to help thousands of veterans, transitioning service members, and military spouses achieve economic mobility.
"Google.org is proud to support Hiring Our Heroes to train veterans for in-demand jobs through our new Career Forward program," said Jacquelline Fuller, President, Google.org. "Our hope is that increased access to portable career credentials along with the right wraparound support will help veterans, military service members, and their families reach their full economic potential."
Through the Career Forward initiative, learners get free access to Google Career Certificates — a self-paced, online learning program that develops in-demand job skills in high-growth career fields, including data analytics, IT support, project management, and user experience design.
The certificates are designed to help provide learners with the skills they need to land entry-level jobs in three to six months, no degree or prior experience required. To date, there are more than 50,000 Google Career Certificate graduates in the U.S., with 82% reporting a positive career impact such as a new job, promotion, or raise.
After completing a Google Career Certificate, learners can apply for 12-week paid job-training fellowships at companies like Booz Allen Hamilton, Deloitte, Freedom Learning Group, and more. To ensure their success during and after the program, Career Forward learners will receive additional support from Hiring Our Heroes staff, including resume workshops and interview prep, and have regular opportunities to engage with fellow learners, program graduates, and professionals in the certificate fields.
I Started the Course in February; in May I Had a New Career
For Amie, the biggest obstacle to her success was herself.
A supply administration and operations specialist in the Marine Corps, she was curious about a career in IT, but when she considered taking a college class, self-doubt clouded her thoughts. Self-doubt told her that she was too old to reinvent herself. She was a mom and a wife. Self-doubt reminded her about her busy family life. When would she find the time and the money to go to school?
Every time her husband suggested a career change, Amie brushed off the idea. In 2020, after leaving a job she found unfulfilling, Amie had the time, flexibility, and motivation to explore a new career. Her plan? Spend one hour daily working on the Google IT Support Professional Certificate course.
"I found it easy to get sucked into the videos and then I would take a quiz, and then I would say 'well I'll finish this week out.' It just snowballed from there," Amie said.
Amie was hooked on the self-paced Google IT Support courses in the same way people binge-watch a new tv series.
"The next thing I knew I was almost done with the course. I had this sort of lightbulb moment when I realized that I had the confidence and the technical knowledge to do this," Amie said.
Soon, she started applying for jobs. Almost immediately, she got a phone interview and soon afterward, a job offer. Amie was surprised at how quickly she was able to transition into an in-demand field.
"I started the course in February and by May I had a new career," she said.
Career Forward Will Change Lives
Career Forward is the first program in Hiring Our Heroes' history to provide a complete career pathway for the entire military community, including transitioning service members, military spouses, and veterans.
"Through Google's generosity, Career Forward will change lives, creating pathways for thousands of military community members to complete Google Career Certificates, develop job-ready skills, and connect with employers," said Hiring Our Heroes President Eric Eversole. "And the program's unique structure will enable us to reach segments of the military community often underrepresented in employment programs, such as our members stationed overseas, transitioning service members who decide to separate after one term, and in particular, those who do not have college degrees."
Amie recommends that veterans, like herself, and military spouses sign up for Google Career Certificate courses, even if they aren't looking for a career change right now.
"I don't want anyone else to miss out on this opportunity," Amie said. "I thought I was too old to start over in a new career and all of this was at my fingertips the whole time. I still kick myself for not starting it sooner."
Career Forward participants have free access to the Google Career Certificates, self-paced online training programs which provide the critical skills transitioning service members, military spouses, and veterans need to land the jobs they want and advance their careers. Learn more at HiringOurHeroes.org/career-forward.